About Us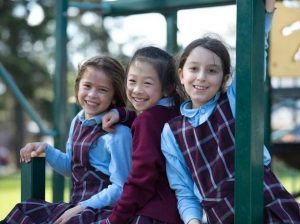 St. Christopher's school has an open park-like setting with both asphalt, and extensive grassed areas, including a sports oval. There are also basketball and netball courts, two adventure playgrounds, sandpit, cricket nets, and tennis court with a separate clubhouse onsite.
While St. Christopher's is a Catholic school we are open to all who wish their children to be educated in an environment fostering strong Christian values. The student population is culturally rich and diverse. Children enrolled at St Christopher's are generally drawn from the immediate geographical areas, however children are welcomed into the school from a wider area.
St. Christopher's Primary School and Parish have both been very actively involved in the local and global community over time which reflects a true testament to one of the core convictions of the Pallottine Order: Every Catholic is called to be an Apostle. The school's motto, 'In faith we live, love and learn' is embedded in the lives of our community.
The children completing their education at St Christopher's continue their studies at a range of schools including Avila College, Emmaus College, Mazenod College, Salesian College and Glen Waverley Secondary College.
Students from our school are given priority for enrolments at Avila College, Emmaus College and Salesian College.