Sail Away!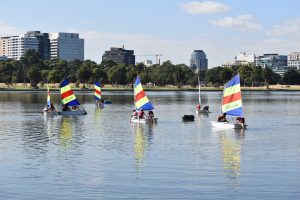 Recently, with squeals of delight – phrases such as 'tacking', 'turn to starboard', 'launch the boat' and 'duck the boom', could be heard clearly from students as they sailed across the waters of Albert Park Lake and Port Melbourne. The lucky year 5/6 students from St Christopher's Primary School, Glen Waverley, learnt to set sail!
The excited, enthusiastic and adventurous students were taking part in four, 2.5 hour weekly sailing sessions called 'Tackers 1', organised and run by Australian Sailing (out of Albert Park) as part of Federal Government, 'Sporting Schools' grant.
Over the four sessions, the students – many of whom had never been in a sailboat before,  learnt how to sail their boat under supervision and with a partner. They also learnt how to launch and retrieve their boat, rig and right their boat after a capsize and understand how to read the wind, tide and weather conditions amongst many other elements of sailing.
The students developed other life skills such as cooperation, perseverance and courage, while participating in this fun sailing program.
(Kel Giblett, Year 5 teacher)